It all started with people talking about Tonie not doing well at Burro Schmidt's tunnel on the Desert USA message board. Cecile talked a little about the tunnel, and I mentioned it to my wife Robin. Alex, our eldest, had seen it on the television show California Gold. The wife decided we should dash up there and check this tunnel out. How long would it take?
By the time the dust settled, we were committed to a five-day camping trip over the New Year's break, hoping to explore from Red Rock to Trona.
Now I have to tell you, I was worried. We've got three kids, Alex at eight years old and two year old twins, Nicholas and Kellian. Camping with children is not for the faint of heart.
Of course I want my children to experience the things I cherish, wide-open spaces, the solitude of the desert morning, the power and majesty of the desert landscape. I want to expose them, sure, but not have them suffer exposure. Neither do I wish, in the pursuit of the peace and serenity of the desert, to find myself contemplating the best methods for scattering body parts so they'll never be found. These are things you must consider when you go camping with children. This would also be the twins first remote camping trip to an area I've never even driven through. I figured I needed as much information as I could get so I asked for "input" on the 'net.
Cecile was a wealth of information, making all sorts of suggestions. Kent Duryee, who posts under the nom de plume "Catclaw", used to live in Phelan so he knows the area. He also called up to Jawbone Station and found out among other things, the rules and regulations for camping on BLM land. I want to thank him and Cecile for all their help. Still, we didn't even know where we'd set up camp when we got there. It had to be remote, remember, no campground. We also needed a place where we could legally have a fire.
The fatefull Monday arrived. Two hundred and fifty-six miles to the desert town of Mojave, with another thirty miles to the Red Rock area driving an overloaded SUV. Before children, this would've been a lark. With three young kids, two untested rugrats, it was terrifying.
March Airfield Museum
The halfway mark to Mojave, via 215, was about March Airfield and its museum, where we thought we might take a break. Do not go to the March Field Air Museum unless you can spend the whole day. Check out their website and see the list of aircraft they have. Kellian was most upset when we left her little red jet behind. Five bucks for adults, three for children, but the old gentleman behind the counter looked over the herd I was bringing in and said, "Oh, what the hell, make it a ten."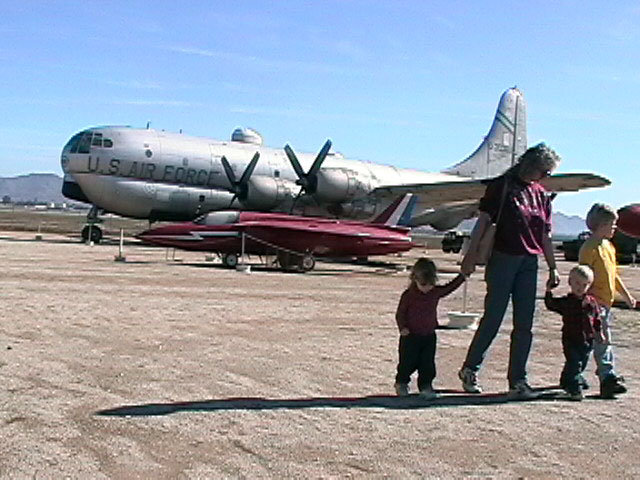 By the time we got to Jawbone Station to pick up a fire permit, I was thinking we were going to be setting up camp in the dark. I had figured we'd hit Last Chance Canyon from Red Rock Randsburg Road and work our way up to find a camping spot, but the map at Jawbone showed that Last Chance was now a part of Red Rock State Park. No remote camping allowed. How'd I miss that?
We drove to Mesquite Canyon, EP100, and started up. The spot we picked was not as flat as I would've liked, but there was a fire ring there, the only one we'd seen off the main road. We'd brought two tents, and this was a good call. While I set up the sleeping tent, Robin and Alex got the other tent up, where we put our little foldout picnic table. That way the kids had a place out of the wind to play and eat. We got a fire started in our portable kettle. Robin cooked by lantern light. The wind blew hard and cold. It had rained recently, and while everything smelled fresh and clean, the ground was wet and that only made it colder.
Exhausted, we gathered the children up and went to bed early. Only problem was, I had set up the sleeping arrangement without considering the angle of the ground. Eventually we all rolled downhill on top of Alex. Then one of the air mattresses got punctured. In the light of the day I did a quick patch, refilled it, and hoped it would hold. We ate, piled into the truck and drove off to Burro Schmidt's tunnel.
A Visit To Burro Schmidt's Tunnel
Everyone gives directions to Burro Schmidt's from Hwy 14, but personally I think it's a whole lot easier from Red Rock Randsburg: EP100 to EP 15, roughly 6.5 miles from the paved road instead of 8.5 from 14 and a lot of sand traps.
A young guy with a white LAFD sports cap, who only identified himself as "Dave", greeted us. We had brought Tonie the proprieter of the tunnel, a cinnamon coffecake. Eric Tabb's excellent article on the tunnel had suggested bringing an edible treat for Tonie. Just a nice thing to do. Dave hestitantly allowed us into Tonie's cluttered cabin, and then stood watch during our visit. Tonie's not doing too good, but she graciously greeted us and I introduced my family. Tonie told us she'd owned and lived at the tunnel since 1963. Forty years.
I've walked the railroad tracks through the Carrizo Gorge, and I've hiked the length of the half mile-long #14 tunnel, but there's something different knowing that a single man with no real expertise nor power tools had spent thirty-eight years digging this tunnel. We were walking through another man's obsession.
Alex led the way, the twins undaunted by the dark, finding occasional spots around the track or mineral laden walls that had to be analyzed. halfway through my wife insisted she felt a warm breeze. The wind tore at us on the far end. The view of Kohen Dry Lake is spectacular.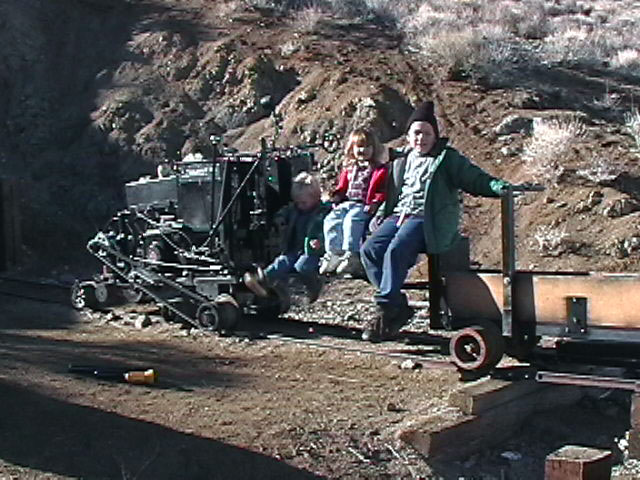 When we got back to our car, Dave intercepted us. Beer in hand, he told us to come any time, that families had brought their children to walk through the tunnel, and then those children had brought their children. He didn't seem to want us to leave.
How'd you end up here?" I asked.
"Oh well," he started, looking away absently, kneading his Bud Light. "I've been coming here for years. Tonie's not doing too good, and she needed a friend. I'm a friend."
Robber's Roost
We kicked around Last Chance for awhile, then decided to check out Robber's Roost. We went out the way everyone says to go in, driving by old mining scars and remnants everywhere.
Robber's Roost is a unique outcropping of granite that was once used by banditos to sweep down on passing travelers and stagecoaches. Peaking around some of the giant outcroppings of stone, I could see how someone with criminal intent could keep track of anything moving in the valley.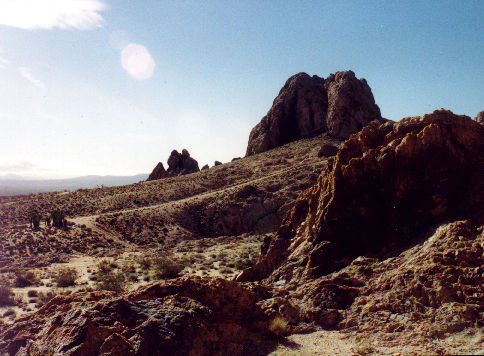 Back down to 14, we turned south, ultimately passing through Red Rock State Park, descending through creamy carmine and ivory walls, before we reached Red Rock Randsburg Road. At the intersection, there are some old ruins we hadn't noticed before. According to Kent, this was the site of the Wagon Wheel Station, a house of ill repute for many years.
We cruised over to Garlock and were a little disappointed that you can't get to it; just stare at the old buildings through the fence. Robin wondered out loud how long ago a flag flew from the flagpole out in front of the old school house. On the way back to camp we checked out a couple of mine entrances.
Once again we got to camp late. The wind had not been gentle on our tents, and the patch on the mattress wasn't holding. After re-establishing the proper location of the tents, I changed the sleeping bag around so that the sleepy heads would be uphill. We have this family sleeping bag that will hold four people comfortably. Alex, the eldest, sleeps in his own sleeping bag, but with one of the mattressess off-line, I opted to crash in the truck so that he could sleep in the family bag, which fits on one mattress, if you're not too long. It wasn't until Thursday night that I realized that the passenger seat could fold all the way down if I moved the kid's car seat.
Camping The Mojave With Children Part II