Stories Around the Campfire
As the stars began appearing over head, and the campfire began roaring, Father grabbed a glass of wine and a cigar, sat down on the big log that we were tied to. He drew a long puff on the cigar, and then he began to tell us the story of Masonic. In the summer of 1860 prospectors belonging to the Masonic Lodge, discovered promising leads around Masonic Mountain where we were now camping. Strikes at Aurora and Bodie were more important however, and Masonic was soon forgotten. On July 4, 1902 the area was rediscovered, and in production by 1904. The mill we had played around earlier in the day was the Stull Brothers Mill, also known as the Pittsburgh-Liberty. Father pointed at the remains of a tramway on a hill above our campsite that was used to connect the mill with the mine on the hill.
We were fascinated by the gold mining history of Masonic and its Pittsburgh-Liberty Mill, and Father had more stories to tell us, but we were beginning to yawn and nod off as he spoke. Sensing that we were two very tired dogs, after all our busy day of exploring around Masonic, Mother, took us off our leashes. We perked up at being let loose, and ran around the campground a few times more until Big Dog Jessie found a discreet place to squat and take a leak. Always wanting to follow my sister's lead, I found a spot a few feet away from hers, and proceeded to squat and do the same thing. Then we heard Mother's voice calling us, and we were soon bedded down for the night. I decided to curl up inside Mother's sleeping bag, Jessie slept on top of Father's. I can faintly remember Father's voice outside the tent still at the campfire, pointing out the stars to Mother.
As the sun came up the next morning, Big Dog Jessie and I woke to find we had been shoved out and off of the sleeping bags, and our parents were cozy inside them. Father was snoring loudly as usual. We whimpered and cried, and licked their faces, until they couldn't stand it any more and decided to get up. The zipper of the tent was opened, and we hurried out to do our business. Again I proceeded to follow my sister and squat behind a small bush, as she always did. I was always embarrassed to hear Father laughing when I did this, and saying something like "When is that boy going to learn to take a piss like a man?" I'd always come scampering back behind Jessie, with my ears perky, and my tail wagging. I'd go to Mother and she'd scratch my ears, and tell me I was a good little man in spite of what Father had said.
Explorations Around Masonic
Following breakfast, which Big Dog Jessie and I got to share, as well, Father told us that we were going on a hike. Mother had a book and she decided to stay back at the camp, but sister and I were ready for explorations. We headed through the meadow, occasionally stopping to smell a meadow muffin, then found our way up through the thick brush and trees on the hillside. We were going to investigate the mine. Father stuck his head in the entrance and it was sturdy, so we proceeded to go inside. It was dark inside, but he had a flashlight to lead the way. We hadn't gotten too far in, when bats startled us, and we ran out as fast as we could. I was especially afraid of the bats, so stayed outside, while Big Dog Jessie and Father continued in. It apparently wasn't too far in, for after awhile they were both back out and ready for more explorations.
We hiked for a couple of hours, exploring every inch of Masonic. Father was examining every remnant of a building, every artifact and shard. Big Dog Jessie and I took in the high desert smells, and occasionally chased a lizard. No luck in jackrabbits on this day. It seemed no time, though, that Mother was calling us in for lunch. At the sound of her voice, sister and I took off like a couple of buffalo and headed through the meadow and back to camp. Right before we got there, Big Dog Jessie found a private bush to squat behind. I looked at her, and thought about it, but decided to get back to Mother. Right before I got to where Mother was standing at the old antique camping stove, I saw that big old long log that we had been tied to the night before. I suddenly saw it in a new light, and found myself drawn to it with an urge I had never had before. I got closer to it, ignoring Mother with a piece of food in her hand. Some great force of nature brought me even closer to that big old log there at the camp at Masonic. I sniffed it, then suddenly found myself lifting my leg and relieving myself on the log. Mother was laughing, and Father was coming down across the meadow shouting, "Look at that, Jake finally learned to piss like a man!"
A Man At Last
Now we spent one more night at Masonic, before heading off to the ghost towns of Bodie and Aurora. Mother and Father relaxed around the camp while Big Dog Jessie and I were allowed to run around where ever we chose, so long as they could see us. Occasionally, Big Dog Jessie would find her bush to squat behind, but I, Poor Little Jake, as I was and still am often called, I went to that log each time, and I pissed like a man!
Many years have come and gone since our camp at Masonic. Big Dog Jessie is old and gray around the muzzle and her hip gives out occasionally from arthritis. I'd had a few years that I was so portly and even more pot belly pigged looking, I could hardly get around the old campgrounds any more and the altitude bothered both my sister and I am embarrassed to say. We now have a younger sister, a blonde twit of a dog that won't ever be as great a tour guide dog Big Dog Jessie and I were. We don't travel much now, accept on an occasional day or overnighter. Masonic, with its crumbling cabins, and shell of a mill, are still there for those to see. For many years, the campfire ring, and the big old log where I learned to be a man, were still there as well.
Alas, this past year, when Mother and Father stopped in with a tour to visit Masonic and the mine we now know of as the Ranger, they were saddened to see that the infamous log of Masonic was gone. They broke it to me gently when they came back home a few days later. I'm disheartened that it's not there and I cannot go back one more time to lift my leg upon it. I'll always wonder what happened to my first log! I'm hoping that perhaps someone camped there one bitter cold night and ran out of fuel for the fire. Perhaps after much thought they decided it best to put that log to better use, so they could keep warm until the morning sun came up and began to ease the chilling air. I'll forgive them if it was an emergency of sorts, but I'll always be saddened, because I longed for one last visit to that old log at the ghost town of Masonic.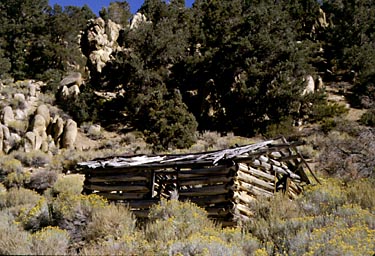 Log Cabin At Masonic
Photos by R.W. Vargo
Text by P.L. Jake Vargo
For Further Reading on Chemung & Masonic:
Ghost Towns & Mining Camps by Remi Nadeau
Mining Camp Days by Emil W. Billeb