We'd heard distant fireworks all night, and it dawned on us that it was New Year's Day, 2003. We ate, piled into the truck and drove over to see Randsburg.
Talk about a quiet town. It was nearly nine in the morning on New Year's and there wasn't a soul to be seen.
Johannesburg Cemetery
The past of this place is everywhere. Mind you, they're still hauling gold out of those mountains, albeit with modern and very unromantic strip mining techniques. There's plenty of the old quixotic gear lying around though. We drove over to the cemetery and I'm kicking myself for not having read Cecile's website article on Burro Schmidt. He's buried there some where, and I probably looked right at his headstone and didn't make the connection. We drove through Johannesburg and then on to Ridgecrest, and finally to the Trona Pinnacles.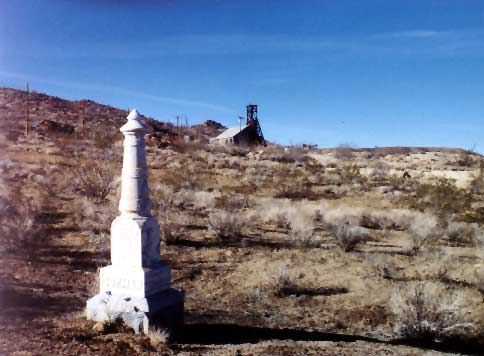 The Trona Pinnacles
As soon as we got them out, the twins climbed to the edge of a pinnacle, and before we could stop them began to hand-over-hand crawl up it. Nick slipped and rolled down the sheer side. At the time it was screaming and acrimony, but looking back at it I can't help but laugh. His slide was in slow motion, and the look on his face was neither scared nor in pain, more like perturbed at this turn of events.
It's easy to understand why the Pinnacles' otherwordly landscape of tufa concretions and sparse vegetation has been used for the backdrop of many science fiction movies, and we could have spent the rest of our vacation days exploring them. There were a lot more things to go and explore, however. We drove by the BLM Wild Horse and Burro Adoption Center, then meandered back to camp. All along the way there's railroad tracks and old buildings, remnants of homesteads, digs and desert dreams bleaching in the sun, wearing away with the years of wind. The wind, however, which had been our constant companion, suddenly died away, and stayed gone for the rest of the trip.
Hardy Campers
The twins by this time had become true hardcore campers. At first they'd stuck close to camp, playing with the toy planes and blocks they'd brought from home. Now, Kellian would hike off, alone, out of camp, just wandering about, looking at what there was to be seen, protesting when called back. They were both getting smart, too. When you offered to put their mittens on, they didn't protest, and demanded them if you didn't offer.
Nick kept pointing toward the crest of the ridge we were camped next to, grunting.
"You wanna go up there?" I finally asked. He grunted his nod and pointed at the Bronco.
We did do some road exploring, following one trail in the Bronco past digs and leftovers, climbing, abruptly, a steep little-used trail, finding ourselves at a sudden flat made from tailings, trying to fiure out the least dramatic method of turning around and getting back down. I looked out from the precipice toward the scene past our dilemma.
"Hey, look!" I pointed. "There's our camp!"
Sure enough, the specks of our tents hung on the side of a nearby crag.
"Looks like they're sliding off the hill," Alex observed.
That night Nick sat in my lap wrapped in his special blanket, and I watched him become hypnotized by the lapping flames of the fire. When I suggested he go to bed , after a moment he nodded and he slid between the covers without a murmur of resistance. That was the night my wife and I stayed up and watched the stars, feeding the fire frugally.
This is why I come," Robin whispered as the Milky Way began to pulse.
Fossil Falls
On Thursday we drove to Fossil Falls up 14. It's a short hike through outcroppings of rolled volcanic stone to the overlook. Fossil Falls is breath taking, but probably not the best place to take a pair of fearless two-year old twins. Not only would the forty-foot fall to the black smooth stone below be messy, but the crags and pools of water on the way down would the get them wet. And it was COLD. The mountains to the west were dusted with shifting snow, and the signs for the mountain passes were marked "closed". Alex wouldn't get near the edge. Consdering how far we'd driven, we stayed only a short time, then shot down 14 to the Exotic Feline Breeding Compound in Rosamond. This took a couple of hours, which worked out well since everyone but Alex and I took a much-needed nap.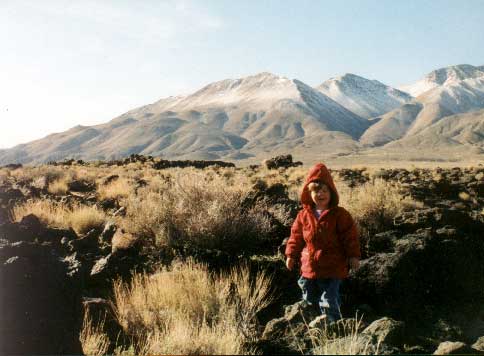 Along Highway 14
If you're used to the San Diego Zoo, the Exotic Feline Breeding Compound feels compact, at first claustrophobic, and the animals are right in your face. Three bucks for adults, a buck fifty for kids, and the diapered set gets in free. A Young docent from India attached himself to us, and gave us an intimate tour of the place, introducing us to each of the cats.
"This one doesn't like me," he said, pointing to a swimming cat. "I don't know why. Poor taste in humans."
This young man, whose name sounded something like "Gotham", made the visit.
The whole hill behind the EFBC is covered with tailings, digs and mining rigs, and along Mojave Tropico Road there's a fenced in town. A sign on the fence explains that Tropico is a ghost town used for making movies, but even the sign looks abandoned.
On the way back to camp, we passed Jawbone Station, and went hunting a cemetery I had spotted on the topo map.
It's about the most forlorn graveyard I've ever seen. There's about ten graves inside a locked fence, marked with nothing but stakes and those little metal plates that I think are supposed to be temporary markers. The graves to the rear of the fence are in a perfect straight row, as if they'd all been dug at the same time. Anyone know anything about this hill?
Last Day
That night I did the cooking for my hungry horde of desert mice, the wife felling ill. Luckily, even I can't ruin hot dogs. Everyone was pretty tuckered, and very shortly I threw them all into the sleeping bag.
Next morning we packed the truck and my grizzled, camping-savvy veterans loaded up for the trip home. We stopped by the 20 Mule Team Museum on the way. From outside, the museum looks like a run-down kiddies park, and there's a couple of displays inside that defy explanatiion, like a Jennifer Lopez exhibit. But then there's so much more, and once you walk around the displays outside, you realize this is good stuff, the first impression misleading.
In retrospect, I would've liked to have taken one day and just driven around Last Chance Canyon, over to Mormon Flat and the like, but there's no doubt this was a successful camping trip, filled with good memories, and anything missed, merely an excuse to go back soon.
Editor's Notes:
The graves near Jawbone Station are those of
workers killed while building the aqueduct.
In January the following article came out regarding shut down of modern
Exotic Feline Breeding Compound